Here is the list of six lodges that you can choose from when you want to stay in Ruboni tourism village, at the entrance gate to Rwenzori Mountains National Park
Lodges
Equator snow lodge: An upmarket lodge located in the forest jungle next to the park gate. It is the most expensive lodge in Ruboni village, but also has the best setting of all. The lodge offers family-size rooms, a restaurant, and a bar. Staying here gives an opportunity to experience the forest ecosystem throughout your stay.
Ruboni Community Camp: A community lodge that is reasonably priced offering a restaurant, bar, and furnished guestrooms. It is located at the base of the bushy hills near the park gate. Ruboni community camp has the best mountain views in the area and is an ideal base for all community tours and mountain treks.
Tours Holiday Inn: It is a modern facility located next to Ibanda trading center. The location is about 7km from the park gate. The lodge offers self-contained rooms, a bar, a restaurant, and a perfect venue for events.
Rwenzori Turaco view camp: A budget lodge offering a restaurant and bar. It is located in a remote village of Mihunga on the trailhead to the park gate. The lodge is owned and run by the local community and offers great camping opportunities.
Snow valley cottages: Tucked in the hills, this property currently has three cottages that are furnished. It is on the farm and guests are welcome to do their own catering. Each cottage is set with a private kitchen, living room, and bedroom.
Rwenzori Homestay: Living with the local family at the base camp of Rwenzori Mountains National park gate. The family lives in the extended system. Located on the farm overlooking the portal peaks, this home is surrounded by the Rwenzori foothills. The homestay is located near the community tourism center where guests can easily walk to have meals, drinks, crafts purchases, cultural events, or meet the local people.
Activities near Ruboni village:
Hill trek with the best the mountain scenery
Forest walk looking for chameleons and other unitque wildlife
Village walk for cultural exchange
One day nature walks inside the park
Multiday Rwenzori trekking activities
Rwenzori coffee experience
Cultural events at the community tourism center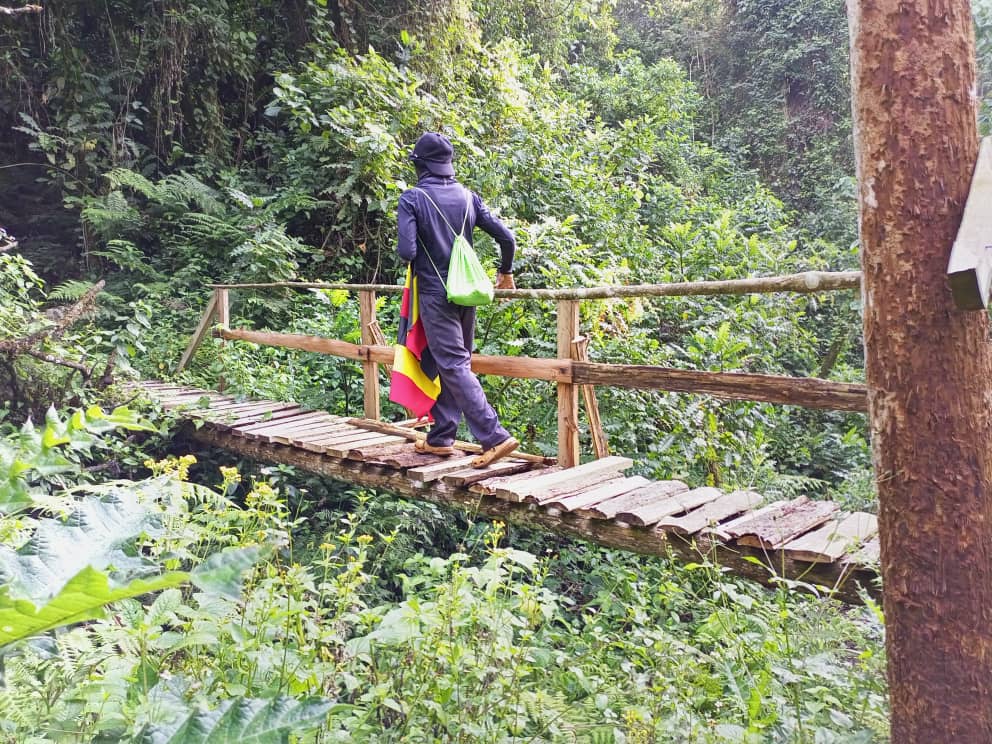 If you want more information about popular activities at the Rwenzori mountains foothills and their prices, please read here
How to travel to Ruboni village from Kasese town
Kasese is the nearest town to Ruboni village. Ruboni village is located 25km southwest of Kasese town. It is reached by a combination of a motorable road network; 10km on Kasese fort portal road and 17km of marum road of fort portal road. Ruboni can be accessed by car or bodaboda. Special hire taxis are available at the post office in Kasese town. Bodabodas can be found at different stages, at the delta fuel station in Kasese, at the Nkenda electrical terminal on fort portal road, or anywhere around Kasese town. Those traveling by air can connect from Entebbe or Bwindi to Kasese airstrip and organize any other road transport from Kasese town
Other nearest towns are; Fort portal north and Katunguru in the south of Kasese. Kampala, Uganda's capital is located 374 km east of Ruboni village.
This is how you can book your spot at Ruboni village
You can book your Hotel accommodation, activity, or transfer to Ruboni village by contacting us today.