If it is your first time to Queen Elizabeth National park, you will find the elephant home very useful. This lodge owned and run by the local community gives you a perfect introduction to the people and wildlife. This is done in the many packages they offer. Kikogorongo village walk, the boda-boda safari, guided wildlife safaris and other encounters. These and many more is why you must stay at the Elephant Home on your first visit since everything is already arranged for you to explore.
The Elephant home gives you the easiest access. Located on the outside of the park, this lodge is accessible by both private and public transport users. On request, they will give you all the travel information or even pick you from anywhere around the country (at a cost)
The lodge has a full time open restaurant, making it easy to organize meals and drinks. However, you have to place your order before arrival or shortly after you arrive. Other amenities include, a gifts shop, standby safari cars with safari guides, a community boat cruise on the Kazinga channel, and a self guided walk you can do at leisure, to study the plants and view the landscapes of Queen Elizabeth national park while you stay.
For those who want to easily arrange safaris in Queen Elizabeth National Park, it is at this lodge that you will find Kazinga channel boat cruise and Kasenyi tracks wildlife safaris easily booked in one place.
You can access free WiFi in the restaurant. You will be able to book your next destinations and activities. This makes the elephant home a perfect base of exploring the entire queen Elizabeth region. The Elephant home staff are knowledgeable and are connected to a whole network of tourism destinations around the Rwenzori region. You will get reliable information that will be helpful for your next travel after the stay at the elephant home. Most of our guests going northwards like to visit Rwenzori Mountains at Ruboni Tourism village.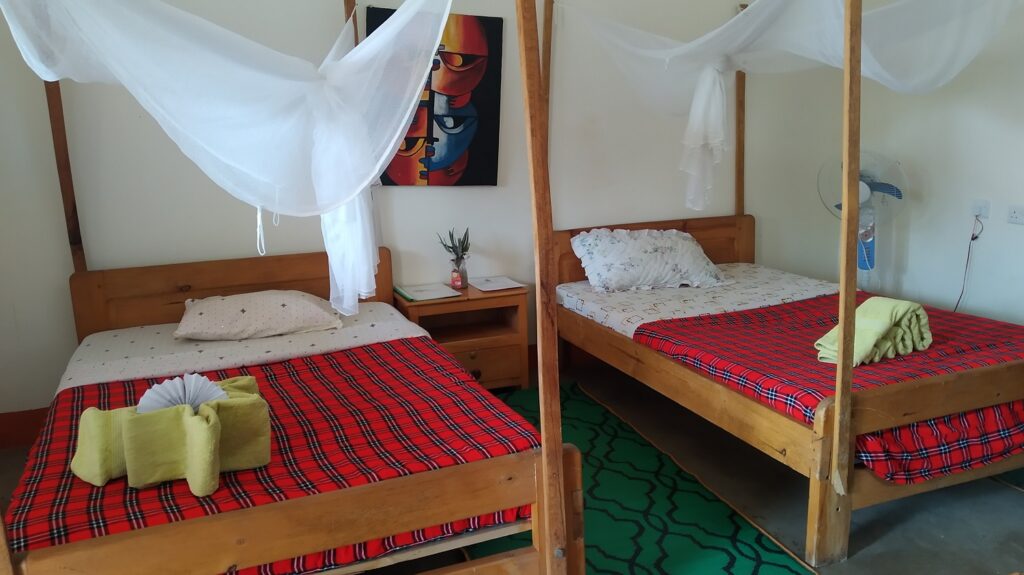 What more do first visitors want? I think you may be wondering about the payment systems. The Elephant home is also cashless. They accept both cash and credit card payments for all activities in queen Elizabeth national park.
Here is how to get to the Elephant home from Kasese town. It is located at Kikorongo village, 20km on Mbarara road. With public transport, take a matatu going to Bwera or Mbarara from the taxi park. Tell the driver to stop you at Kikorongo. The elephant home is located 20km from Kasese town on Mbarara road. The lodge sits on the right opposite the park, 1km before Kikorongo junction. You can also look for the location on Google maps.