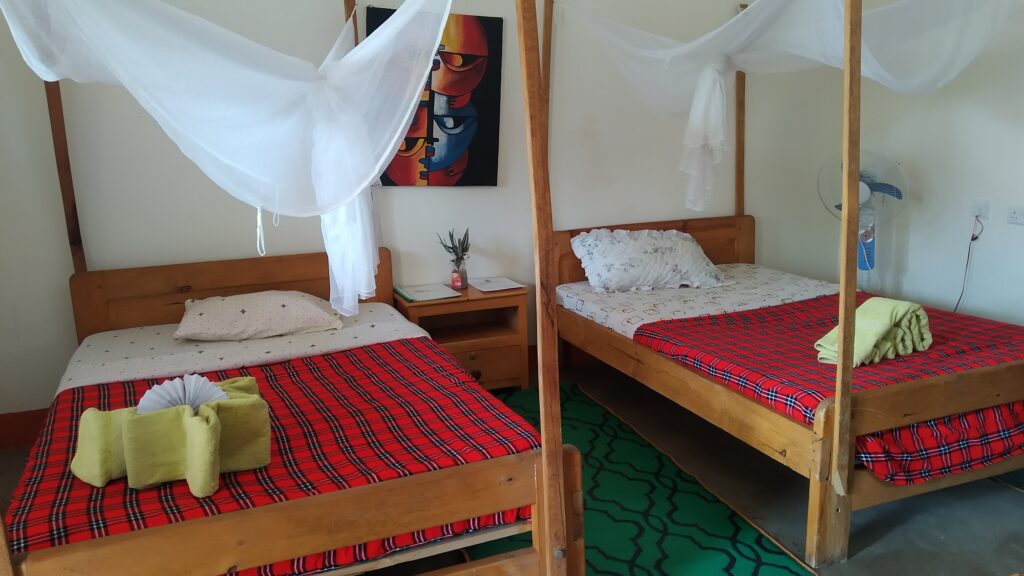 Why stay at the elephant home? Our promise is the delicious meals, hospitable staff, easy access to the park gate where the game drive for every trip starts. We have a long list of community and wildlife activities that guests can participate in. Our staff and guides will organize all the activities and provide information on how best to explore the area.
Amenities of the Elephant Home: We have spacious, clean guestrooms with private toilets and showers. The bed setup is double, twin, or triple. The beds are furnished with beddings and have mosquito nets. Each of the rooms has seating furniture and a private balcony overlooking the natural bushes, offering a connection to nature. The lodge has free WiFi in the restaurant, uses solar, and has electric outlets for charging in the rooms.
What you can do here? Our guides organize wildlife safaris, Kazinga channel boat cruise, and other short community trips. These trips enable visitors to equally explore the wildlife and the culture at the most affordable price. We have more than seven community excursions around the village. They include; Savanah and hill-climbing day trips. We also have an on-site crafts shop. At the shop, guests can choose to participate in a crafts-making workshop with the village women.