Introduction
The Ruboni Community tree planting initiative was founded in 1998 by a local community based Organization called Ruboni Community Conservation and Development Program, owned and run by the people in the region of the Rwenzori Mountains.
After having seen the massive deforestation and land degradation over the past decades, the community decided to counteract the loss of natural forest and wildlife. At this moment, we observed a change in our surroundings by the progressive tree and biomass decline, which led to massive landslides, soil erosion, unpredictable extreme weather conditions and river flooding, just to name few amongst other problems on which we have to cope with as a community nowadays.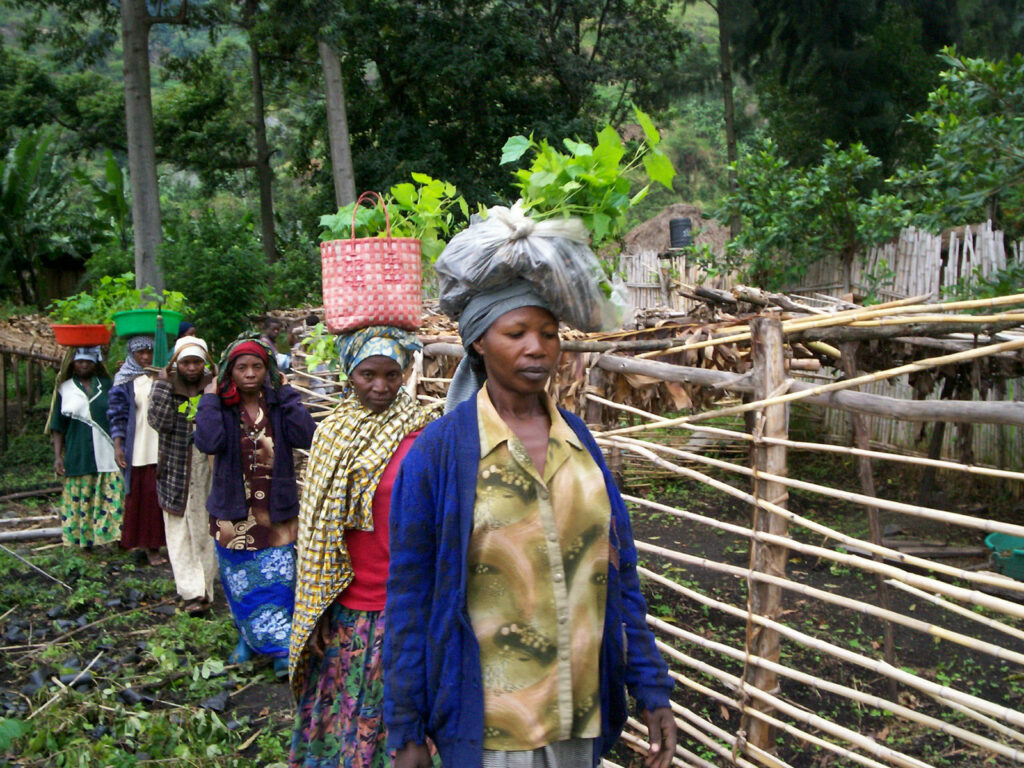 So, in 1998 we started to work with local people through the many conservation and development partnerships, and took the initiative to replant indigenous trees on the deforested land around our homes. Each year, we enrolled more and more volunteers. Thanks to their contribution 25 years ago, the community people can be proud of a native forest which borders the Rwenzori Mountains National Park that has been created by them.
Currently, this community forest is seen as an extension of the National Park. Many animals have already adopted that area as their new habitat and as a result, monkeys, snakes, chameleons, several birds, insects, and other small mammals, which most people believed to be disappeared have emerged in this regenerated forest area outside of the National Park.
This effect encouraged us to expand our actions and to have even greater visions for that area to equally become a space for indigenous forest, wildlife and local people. The goal of RCCDP is to live in coexistence with each other to preserve on one hand the unique nature of the Rwenzori Mountain region, and on the other hand to provide sustainable living conditions for the local people. How that can be achieved is stated in the following concept of the project.
Concept
The main goal of the project is to combine restoration and preservation of the natural land in the Rwenzori Mountains foothills, and to achieve a sustainable income and livelihoods for the local community.
One reason for the deforestation of the land was – and is still the population growth and poor methods of farming. More wood for construction and for energy was needed and as a consequence to meet those needs, trees had to be cut down. Instead of planting new trees, most of the areas were turned into farmland.
Annual Crops like maize and beans were planted in the buffer areas next to the protected areas and on landscapes of high ecological potential or that are susceptible to soil erosion, and due to the farming technique "slash and burn", the last remaining perennial shrubs and trees were burned. This led to even more soil erosion, landslides and after short time a decrease of soil fertility and land output set in. Use of chemicals has been employed to try to enhance productivity, by use of herbicides and pesticides.
In order to achieve a compromise for the needs of nature restoration and food production, we members of the Ruboni Community Conservation and Development Program (RCCDP) agreed with the farmers in the community on provisioning of their private land for reforestation purposes. This enhances collective landscape management as opposed to land fragmentation that focuses on individual household plots.
Through tourism, we support tree planting all year round. All the profits made from the trips is being paid to the farmers for planting the trees. This is done in form of labor and maintenance, hence creating employment to the poor households. In future, we will use this money to set a payment system to the farmers so as to keep the trees living on the lands and continue providing other ecosystem benefits acting as a tourism attraction and a resource bank for household controlled harvesting.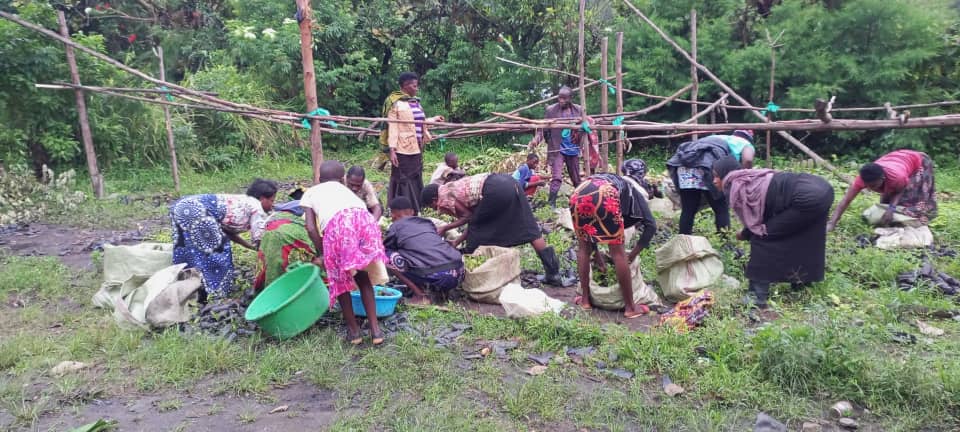 For compensation of losing their land and incomes due to less cultivated crops, when land is allocated for forests, the RCCDP plants a mixture of indigenous trees and fruit trees on their household lands. This will ensure a stable conservation of the reforested land, as the farmers will have a living by growing and selling fruits like Avocados, Jackfruits, Guavas and other wild based fruits.
Still wildlife will be promoted because of the settlement of native, indigenous trees. Later, they will attract birds and other wildlife, which will bring more seeds from surrounding areas. By that vision, the best compromise between ecological and socioeconomic needs of both- nature and local population will be assured.
Moreover, the created forests will be used for beekeeping. In this case, the households will be offered beehives to put in their indigenous forests. The bees' existence will enhance the pollination of trees and crops in the neighboring villages as well as supply honey and its by-products for sale, food and medicine.
Another aspect to compensate the income losses of farmland is to offer guided walks and bee keeping experiences through the reforested land to tourist. This will provide jobs and thus an alternative income for local people in the community. This alternative source of income will divert the community pressure of extracting forest resources for survival.
The individual households, specifically women will be supported to introduce kitchen gardening around their houses. This will ensure that they can grow vegetables and staples around home by use of the household manure and other inputs.
Production of food around the house empowers the woman, ensures sufficient foodstuff addressing famine, improves land productivity since close attention is given to crops and leaves the rest of lands that are far from home, for sustainable tree planting. A supply system will be build for the youth and women to collect and sale the surplus vegetables to the tourism lodges and other non farmer communities. In all aspects, this addressed the negative impacts of climate change on the household level when the farmers can employ smart farming.
Up scaling of the Project
Information events have been held to raise awareness for the importance of nature restoration and conservation. By these actions, the buffer conservation initiative was borne in the three protected areas. Two more communities in the region of the Rwenzori Mountains have been motivated to participate in reforestation actions so far. In that way, the RCCDP acts as a role model and pioneer project in this region.
The goal is to involve as many communities as possible to accelerate the reforestation processes in all parts of the Rwenzori region, to combat the negative effects of deforestation and moreover to fight global warming and the negative impacts of climate change. Here we see a huge potential to make a fast change to restore nature and to create awareness in local communities.
The emerging gaps and need financial support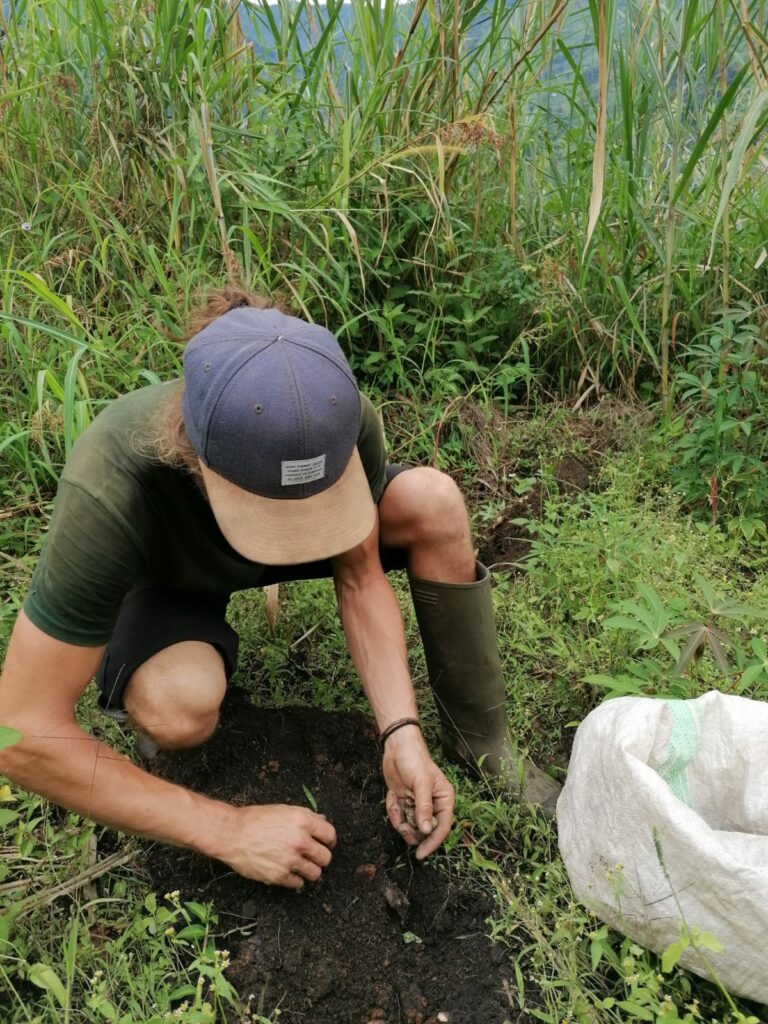 In the earlier days, RCCDP started with volunteer workers. Nowadays as the project has grown larger and covering a wider area, it demands more labor and technical workforce. The general expenses e.g. for seedlings, logistics and salary for nursery workers and planters, have increased and consequently the project relies mostly on external funding to cover the increased costs.
However, most funding is short termed and doesn't cover all of our cost. This greatly affects our work and especially limits our progress on tree planting, nature conservation and administration. As the financial situation here in Uganda is crucial, a sponsorship could help us to realize our visions and plans for the future.
Thanks to the tourism business, specifically the guests who take Rwenzori treks and community trails organized by Ruboni Tourism Village, as the profits on these activities are used to support this tree planting activity.
If you have further questions regarding to our project, or want to be part of this innovative tree planting initiative, please contact us.