EIGHT COMMUNITY ACCOMMODATIONS AT EIGHT NATIONAL PARKS OF UGANDA
Community lodges are the opposite of the traditional investor lodges in Uganda tourism market. Traditionally, investors bring external resources to make accommodation investments in the destinations. These investors choose to work with or without the local community members living within the destination.
On the contrary, the community lodges are local investments. In most cases, communities pull together their local resources such as land, labor, time, and finances to build these lodges. In return, the community expects longer-term benefits. The resulting community lodges provide development benefits such as employment, a market for local goods, and a hub for other local development and conservation partnerships
If this idea of community accommodations interests you, then this post is for you. We made a selection of eight such accommodation facilities that you can find near eight of the ten parks in Uganda, during your trip. Your expectations are catered for. We have mentioned one at each National Park. They are;
1-Tinka's homestay: Located at Kibale National Park
Tinka's homestay is located in a small village next to Magombe swamp and Kibale Forest. It is an ideal accommodation for guests who want to do chimp tracking or any other wildlife activity in Kibale National park. The homestay is located in the community outside the park, next to Bigodi swamp. The services offered at the lodge include; accommodation in the guest rooms and Bandas, a traditional lunch experience, tourism information about Kibale national park, and other village activities.
2-Ruboni Community Camp: located at the Rwenzori Mountains National park
Ruboni Community Camp is located on the trailhead to the Nyakalengijo park gate of Rwenzori Mountains National park. The lodge offers meals and accommodation to Rwenzori trekkers on the night before and after their trek to the high peaks or the foothills. The accommodation has furnished guestrooms, a restaurant, and a camping ground. This lodge is owned and run by the local community. it organizes a list of community activities and cultural experiences for guests to participate in during their stay. All their profits go back to the local community.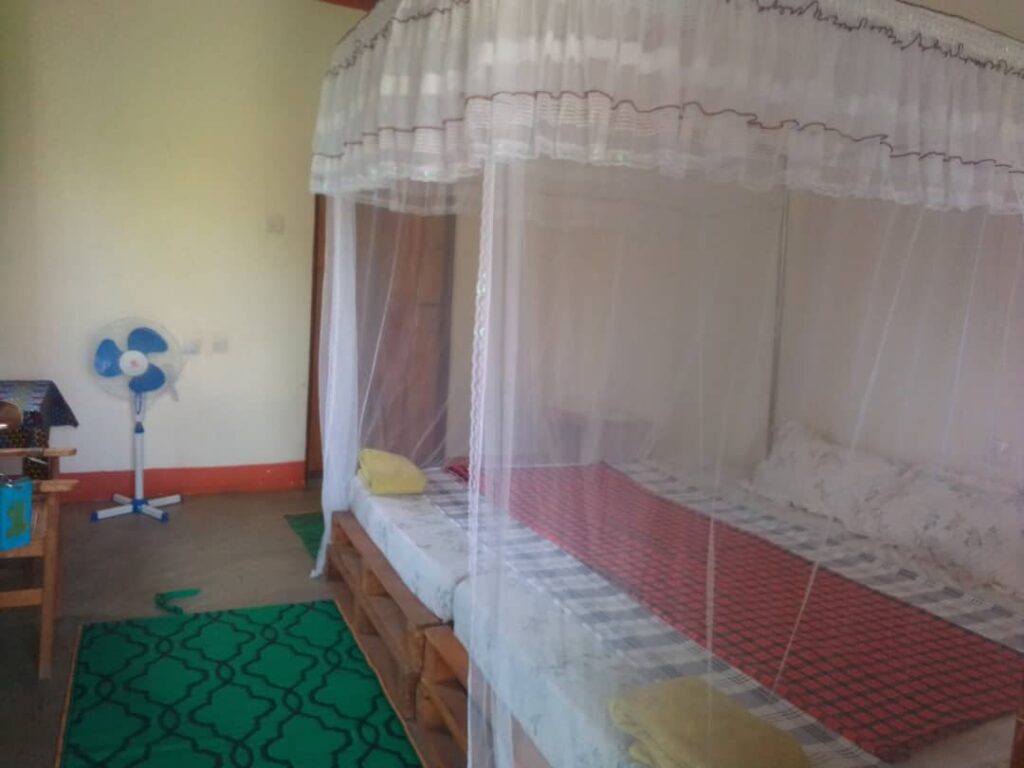 3-The elephant home: Located at Queen Elizabeth National Park
The elephant home is located in Kikorongo village 20km from Kasese town on Kasese Mbarara road, before Kikorongo junction. This Lodge is one of the closest to the Kasenyi park gate where the game drive starts. Easy to access by any mode of transport, the lodge offers guest rooms, a restaurant, and a gift shop on the site. It is community-owned and runs the property. Guests will find a long list of safari and community activities you can do inside and around Queen Elizabeth national park.
4-Ruhija gorilla friends resort Campsite: located at Bwindi impenetrable forest
Ruhija Gorilla friends resort and campsite is located in Ruhija trading center on Ruhija sector gate. The lodge is a community cooperative offering budget accommodation to visitors who use this gate of Bwindi national park. The lodge has furnished guestrooms, an onsite restaurant and offers village tours. The accommodation is ideal for guests destined to track one of these three gorilla groups; Oruzogo Bitukura, and Kyaguriro Gorilla group.
5-Mgahinga community campground: located at Mgahinga gorilla national park
This community lodge is located at the main gate of Mgahinga Gorilla National Park. The location is the starting point for treks inside the park, the Batwa trail, and other village experiences in the area. They offer furnished rooms, a restaurant, and a camping ground.
6-Boomu women's group campsite: Located at Murchison Falls National park
Located 500 meters before the Kichumbanyumbo gate of Murchison falls National Park. the lodge is accessed on the route that comes from Masindi town through Budongo forest to Murchison. Accommodation at Boomu women campsite is offered in traditional Bandas. The bed plans are; dorm, twin, and double. The site also has a campground and organizes village tours, a handicrafts shop, and delicious meals I the restaurant is on-site offering delicious local meals.
7-Bluestar homestay: – Mount Elgon National Park
This homestay is located in the Sipi area, in the foothills of Mount Elgon. The home sits in a village outside Sipi trading center. The Host offers accommodation in single, double, and dorm kinds of rooms. The prices are inclusive of meals. All meals are shared with the family. All activities in Sipi and Mount Elgon can be organized by Blue star homestay too.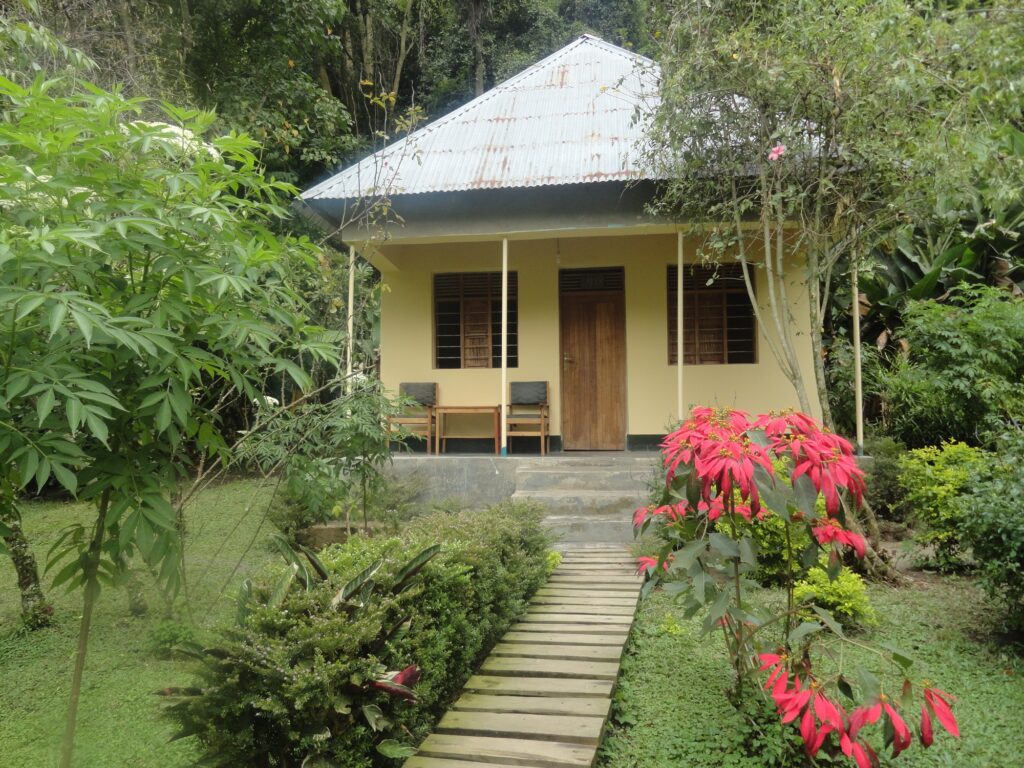 8-Rwenzori escarpment view guest house: Located at Semuliki National park
Located at Karugutu town council, offering shoestring/ budget accommodation in traditional Bandas, guest rooms, and a camping ground. Home-made local meals can be prepared on order for staying guests. This accommodation is ideal for guests who want to visit the attractions of Semuliki valley, including Semliki national park, Semlike wildlife reserve, and this park of Rwenzori mountains national park. The community activities offered to include; the cocoa farming village tour, trekking to the local foothills, and taking views of Lake Albert, or visiting Ntororko fishing village. 
At rainforest and community tours, we impress this kind of travel because it is one way the grassroots communities are empowered to improve the local lives and support conservation projects in these critical ecosystem areas such as the fringes of national parks and other protected areas.
If you're interested in any of the lodges or activities mentioned here, please contact us for more information.